On November 12 of last year there was a combination of elation and confusion spreading across the faces of those folks who picked up what they thought was that day's New York Times.
Front page headline: IRAQ WAR ENDS
On closer inspection, you could see that it was dated July 4, 2009.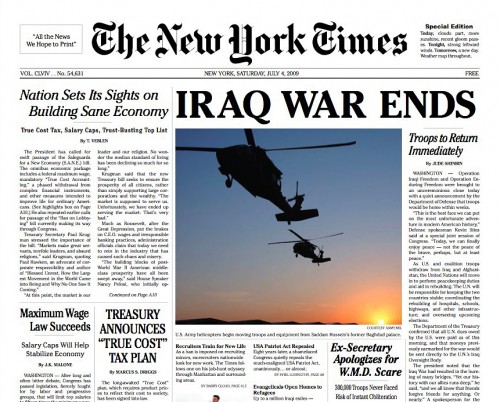 Steve Lambert, Andy Bichlbaum of The Yes Men, along with 30 writers, 50 advisors, and about
1000 volunteer distributors contributed to 14 pages of news for the hopeful that projected
an ideal world scenario almost 8 months in the future.
This project won the Award of Distinction in the Hybrid Art category.
Steve Lambert speaks on how the project came together.
Before you watch this, visit Steve's site – he's a good guy.
(praise to The Yes Men)